We are organizing an Ende Gelände-style mass action against concrete producer and mass polluter cementa.
Cementa is the company that emitted the second largest amount of carbon dioxide per year in Sweden, with just over 1.9 metrics tons in 2020. That corresponds to about 3-4% of ALL emissions of greenhouse gasses that occur within Sweden's borders. Much of Cementa's emissions comes from the burning of coal.
Globally, concrete production has a gigantic carbon footprint – at least 8% of global emissions comes from the concrete industry, which is more than the emissions from the global flight industry!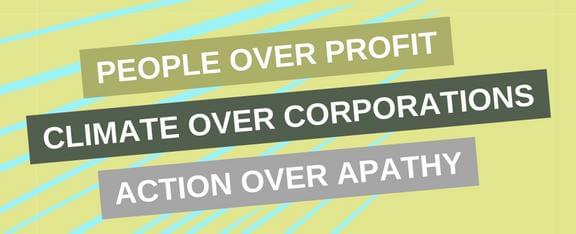 In 2021, the Land and Environment Court of Appeal rejected Cementas request for permission to continue their limestone mining on the island. The mining drives salt water into the already poor supply of groundwater and might even make it impossible to conduct agriculture or even live on the island.
As capital and profits were threatened, the Swedish parliament in record speed (one month later) enacted a law change which gives the government the power to approve these requests, and the government quickly approved expanded mining operations.
On the 25th to 27th of August, we are taking matters into our own hands and are going to physically shut down Cementas operations via blockades and mass civil disobedience.

WHY WE NEED YOUR SUPPORT
We are going to house and feed a large number of activists during the action, which has large upfront costs that we are unable to cover on our own.
We are unaffiliated with and do not accept financial support from any political parties. The money we need is intended to cover:
Costs around the logistics of the action itself: Tents, food, buses, sanitary facilities and similar things.
An information campaign about the action: Printing flyers and posters, touring to different cities to give talks and spread awareness
WHERE TO FIND US
instagram.com/takeconcreteaction
www.facebook.com/takeconcreteaction
On Gotland in August
104% of €3000
€ 3143 reached in total
-466 days left