Support us in our commitment to working-class struggle in the context of ongoing capitalist crisis!
Ntirhisano Community Centre (NCC) is a home for many grassroots organisations. We are working together to fight capitalism, poverty, racism, xenophobia, homophobia, and sexism through mutual aid and direct action! In early 2022, we established the community centre to provide a space for horizontal organising, knowledge sharing, embracing cultures, and forming connections.
The centre is based in the historically working-class suburb of Salt River, Cape Town. The population of Salt River includes those who were forcibly removed from District Six during the 1960s as a result of the Apartheid regime. It is one of the most tolerant (and diverse) places in Cape Town. This makes it a welcoming place for those from many different backgrounds. NCC has thus become a centrally located hub for organising among people from all walks of life: refugees, shack dwellers, informal workers, youth, and unemployed people.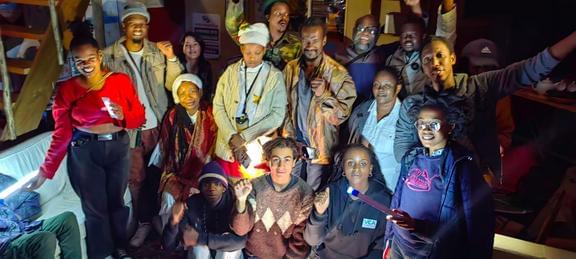 Community and artist activists from Sierra Leone, Kenya, Zimbabwe and South Africa at Ntirhisano Community Centre
Ntirhisano is the xiTsonga word for 'working together'.
Our developmental model involves working together with various progressive groups, individuals, and civil societies, locally and globally. NCC also facilitates and participates in activities which support the resilient cultures of the poor and working class. In these spaces, consciousness is sharpened, reinforced, embraced, celebrated, and protected.
Ntirhisano has been running learning activities for anyone interested in joining. We also provide free WiFi access, host open mic events and are a space for performance rehearsals. NCC also works alongside a refugee community setting up a vegetable garden and has helped to raise funds for school transport for refugee children. We have facilitated many community meetings with the informal settlements near the refugee community and organised a joint protest against their lack of basic services.
In short, we are fighting neoliberalism, which is in a permanent and severe crisis. We combat hegemonic forces camouflaged in nationalism and nation-state rhetoric by focusing on community building and solidarity.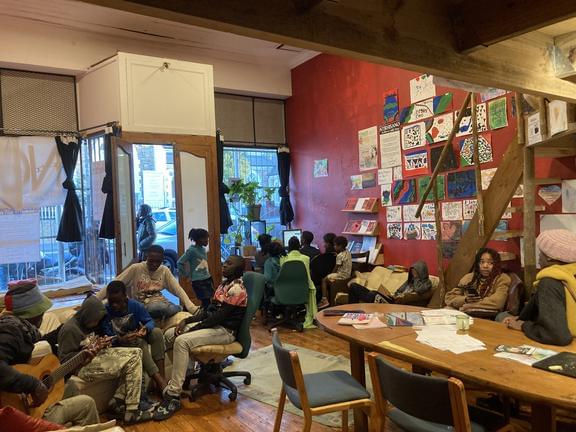 Support generated through crowdfunding, our comrades across the globe, and our own families helped us get started. But now we need your help to keep the movement going!
For Ntirhisano Community Centre to keep its doors open, we need to raise funds to cover ongoing monthly maintenance and administration costs. We also need to fund our current, intermediary and long-term projects and goals.
Fundraising budget
Total Monthly Budget in euro: €1,244.186
Rent: €349.73 + 10% annual increase (€34.84) = €384.45
WIFI: €29.85
Electricity: €97.296
Water: €72.72
Regional travelling between partner organisations: €979.38
Transport/fuel: €390.68
Provisions: €244.18
Repair and Maintenance: €97.646
Subtotal: €1,244.186
Total: €1,244.186 X 6 Months = €7,465.116
We also have fundraising platforms for continued support from anyone who supports our vision and is able to assist. We are active on Patreon for supporters to follow our work and continue to contribute to the centre and related activities. We also have a Paypal.
These platforms are essential to achieving our long-term goal of purchasing the building NCC is currently renting. The cost of the building is €79,215.40
7% of €7465
€ 549 reached in total
25 days left