Over the past five years, Kurdistan Solidarity Network (based in England and Wales) has been taking action to defend the Revolution taking place in Kurdistan. We work closely with organisations within the Kurdistan Freedom Movement here as well as in Kurdistan to deepen our understanding of the movement and develop relationships based on revolutionary comradeship and solidarity.
In 2023, we are organising a course about the ideology and practices of the Rojava Revolution and the wider Kurdistan Freedom Movement, looking at what we can learn from one of the most inspirational and powerful social movements of our time. Building on years of work with the Kurdish movement and the experiences of our organisers who have spent significant periods of time in Rojava and other regions of Kurdistan, the sessions will translate some key ideas and approaches of the Movement to our context so that we can build up revolutionary social movements here.
We are running the in person aspects of our political educations over summer 2023, so we need to fundraise now to be able to plan the sessions and make them happen! We're running the educations both online and in person, but we won't be charging for any of them because we think revolutionary political ideology should be accessible for everyone. So we are fundraising to cover the costs of food and venue for the residential courses, as well as travel costs so that people are able to participate even if they can't afford the travel. If we meet our target, we can skill up dozens of organisers in the revolutionary ideology of the Kurdistan Freedom Movement, so we can take effective solidarity with the Revolution in Kurdistan, and also bring the Revolution home.
We are aiming to fundraise for up to 30 political organisers from across England, Scotland and Wales to participate in one weekend-long and one week-long political education. We are planning to host the educations at locations where we can get the space for a solidarity rate, but will make a contribution for the venue, cover food costs, and contribute to transportation for participants who would struggle to afford the cost themselves.
Budget:
Venue: £1,100 / 1,226 Euros
Food: £750 / 836 Euros
Travel costs for participants: £450 / 502 Euros
Total: £2,300 / 2,564 Euros
To find out more about the educations and how to join, email [email protected]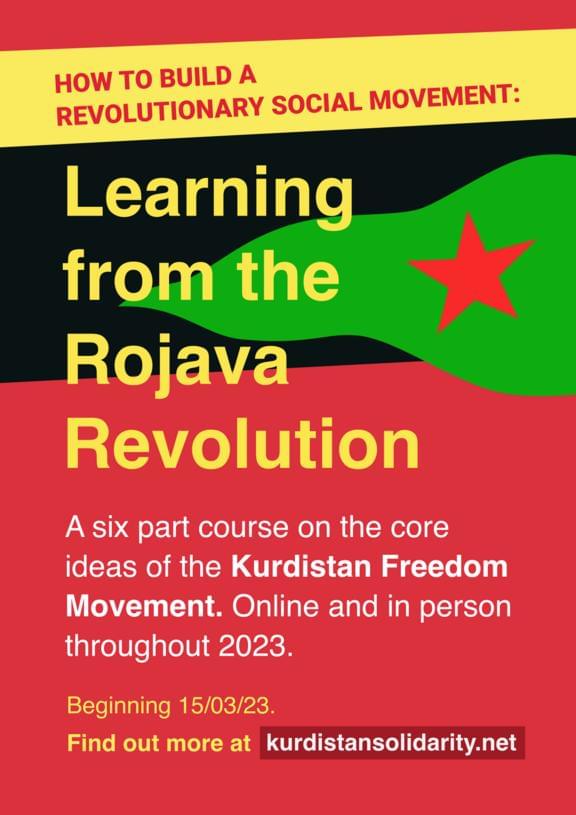 100% of €2564
€ 2568 reached in total
-155 days left