Anarchist Bookfair
Friends, comrades and co-conspirators, we are pleased to share some good news in these dark times:
Following last year's successful collaboration, the Antiuniversity and Anarchist Bookfair in London will once again join forces this year for a week-long festival of radical learning, mutual education and printed resistance.
These events will take place in September, Antiuni festival will be in locations all over the world and, as always, programmed by you. The Bookfair will take place on during this week Sept in London, showcasing the most exciting rad publishing of 2022 with all your favourite radical booksellers, campaigns, stalls, alongside talks and workshops.
We urgently need funds to make this event happen, we're looking for at least £2250, so that we can secure the venue, provide accessability support and sort out all of that good stuff which makes the yearly bookfair so special.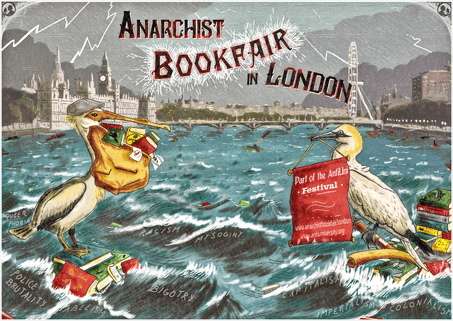 The Anarchist Bookfair has long been one of the vital annual anarchist events in London, with an extensive history of rabble rousing, community organising, activism, discussions, bookselling and much more.
If you would like to participate by offering a workshop, booking a stall or helping out on the day please visit our website or drop us an email.
Should the in-person aspect of the event not take place due to Covid, we will host another online bookfair. Any remaining funds will be held for 2023's bookfair. Please see our website for more details of our Covid policies.
7% of €2675
€ 195 reached in total
-523 days left